Dubai Creek Park is one of the most popular parks in the city, and it's easy to see why. With stunning views of the Dubai skyline, the park is perfect for a romantic stroll or a family picnic.
From Dolphinarium to the Children's city, there is no doubt that Dubai Creek Park is a great place to visit for all ages. However, what makes the park really special is its unique location.
Nestled between two of Dubai's busiest roads, the park provides a much-needed oasis of green space in the city. So whether you're looking for a place to relax or a place to explore, Creek Park Dubai is sure to have something for you.
So, get out of the same routine and give yourself a chance to explore Creek park today. This guide contains all the information you need to make the most of your visit. Let's slide in!
Where is Dubai Creek Park Located?
The Creek Park is located in Umm Hurair 2, between Deira and Bur Dubai. The best way to reach the park is by taking the Dubai Healthcare City Metro Station. It is nearest to the Greenline.
Exciting Things To Do In Dubai Creek Park
The following are the exciting ways to enjoy at the fabulous Creek Park in Dubai.
Visit Dolphinarium to Watch Adorable Dolphins
The Creek Park is home to the Dubai Dolphinarium, one of the most popular attractions in the city. The dolphinarium offers a variety of fun activities for all ages, including a dolphin show, rides, swimming, and more.
The theatre also features a 5D and 7D experience, making it the perfect place for a family outing. Here is also a trampoline room and a mirror maze to keep the little ones entertained.
If you're looking for something a little more educational, the dolphinarium is also home to 20 different bird species. Moreover, Creek park Dubai dolphinarium is also a great place for children.
It offers a variety of activities that are perfect for birthday parties or school field trips. So whether you're looking for a fun day out with the family or an educational experience, you can here enjoy loads.
Explore Children's City
The Children's City at Dubai Creek Park is the perfect place for kids to learn about the world around them. With a variety of hands-on activities, the City offers a fun and educational experience for all ages.
The Technology Gallery and the Nature Center let kids learn about different cultures and the environment. Children's City is sure to spark creativity and curiosity in all who visit.
With a theatre in Al Ajyal for both kids and adults, one can enjoy a show after a day of exploring.
The Creek park timings for Children's City are 2:00 to 8:00 pm on weekends and 9:00 to 7:00 pm on Sunday through Thursday.
So come and explore all that the Children's city has to offer.
Take A Stroll Through The Park
Dubai Creek Park is the perfect place to take a leisurely stroll, with its scenic views. With over 3 kilometers of walking and jogging trails, you can enjoy a peaceful walk or a vigorous workout.
The park also features a fitness center, where you can take advantage of the equipment and classes. If you're looking for a place to relax, the park also has a variety of seating areas where you can enjoy the views.
Dhow ride at Dubai Creek Side
The Dhow Ride across the Creek Park is a must-do for all visitors. The traditional wooden boats offer a unique way to see the park and the city beyond. With a variety of packages available, you can choose a ride that is perfect for you.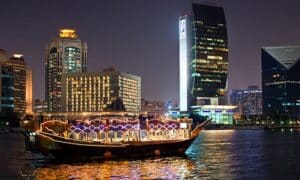 The royalty and calmness of the ride will make you feel as if you have stepped into any Hollywood movie. Riding in a dhow is an excellent way to get a different perspective of Dubai and its skyline.
You can see some of the city's most iconic landmarks, including the Burj Khalifa and the Dubai Mall.
Click for more information: World of Adventure 2022
Barbecue Stations to Have a Fun-filled Day
Dubai Creek Park has a variety of barbecue stations to choose from, so you can enjoy a fun-filled day with family and friends.
With a variety of meats, vegetables, and sauces to choose from, you can create a meal that is perfect for you. The BBQ points are located in different areas of the park, so you can choose a spot that is perfect for your group.
Various Rides to Have an Adventurous Day
The Creek Park Dubai is home to a variety of rides, perfect for an adventurous day out. On a cable car ride, you can explore the park from above, while the bumper cars and Ferris wheel offer a fun way to experience the park.
The park also has a mini-train that is perfect for kids. If you want a bike ride, you can see the park on two wheels with the help of the bike rental service. Moreover, there are also electric cars available for rent. So, come and explore the park in a variety of ways.
Eating Spots to Refuel
The Creek Park is home to several eating spots, so you can refuel after a day of exploring. From fast food to sit-down restaurants, you can find something to suit your taste.
If you're looking for a quick snack, there are several kiosks located throughout the park. The Dubai Creek area is also known for the best seafood. So you can enjoy a fresh seafood meal while overlooking Creek park.
Entrance Gates & Hours of Dubai Creek Park
Dubai Creek park's timings are from 8:00 am to 11:00 pm. There are four gates located around the park, making it easy to enter and exit. The first gate in Creek Park Dubai leads to the children's city and the dolphinarium.
Alternatively, Gate 2 can be used to access the southern car park. Gates 3 and 4 are also located near the park's central area. Gate 5 serves as an entrance from the parking lot at the northern end of the park.
Closing Words
The Creek Park is the perfect place to spend a day in Dubai. With its wide range of activities, you can get rid of your boring routine. Everything from the food to the rides is worth trying.
To get the most out of your experience, make sure to take benefit of all the park has to offer. So come and explore Dubai Creek Park today. Don't forget to share your experience with us in the comment section below.